NEWS & EVENTS.
Triathlon Jumble Bring and Buy Sale
Sunday 24th June 2018
9am-3pm
Sell your unwanted swim, bike and run kit or shop for a bargain!
The last time we ran this event it was a HUGE success!
Email nick@racehub.uk for a selling pack and info.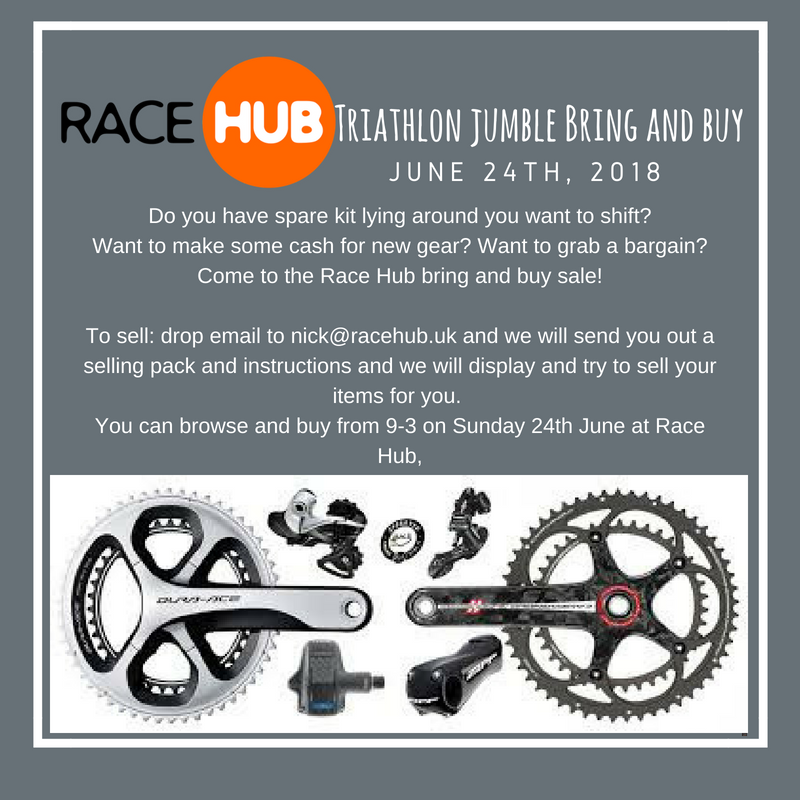 You will be able to bring your gear to us (labelled as our the instructions pack) in the two weeks before the event. We will display it and try to sell it for you at the event. You will need to come to Race Hub in the week following the sale to collect your proceeds or any unsold items.
The bring and buy sale is open to everyone and the cafe and Wattbike Studio will be open also so why not come for a browse!
Boxing Day Swim
Tuesday 26th December 2018
9am-10am
Join us on Boxing day for a refreshing swim round a shortened course in our beautiful lake.
Book Online Now!
Booking is required. Visit our booking page and click on Open Water Swimming Events
The price is £8 per person.
The cafe will be open until 11am for hot drinks and mince pies. Wetsuit hire available – to pre-book yor website please email us.
Free Wattbike Weekend
9th & 10th December 2018
Come and use the Wattbikes for free all weekend. We have a range of Classes, Inductions, Sufferfests and open sessions available.
Book Online Now!
Booking is required. Visit our booking page and scroll down to the second window to book.
Open to new and existing customers, beginners or experienced cyclists.
RUNNING SPECIFIC STRENGTH & CONDITIONING WORKSHOP
Saturday 19th March, 2-5pm
This 3 hour interactive and practical workshop, delivered by expert Strength and Conditioning Coach Mark Niemz, is aimed at endurance athletes looking to learn methods of training to enhance their running technique and performance and will cover:
▪ Key concepts in efficient running technique.
▪ Exercises and running drills for run conditioning
▪ Adding these exercises and drills into your training programme.
Mark was head of Strength and Conditioning to the British Triathlon Team from 2007 to 2012 and has worked with a number of other Olympic teams and specialises in developing conditioning programmes for endurance athletes.
This session is £30pp* and is bookable at www.racehub.uk.
Places are limited to just 15 people so please book promptly to avoid disappointment.
*There is a discount to members of Racetime Triathlon Club – email us for details.
To celebrate our becoming a licensed 'Sufferfest' facility, Race Hub are hosting the 2016 Tour of Sufferlandria.
The Tour of Sufferlandria is about doing 9 days of Sufferfest videos in a row. It's not really a race – it's just you against yourself and whether you can push yourself for 9 days straight?
We are offering Race Hubbers the opportunity to complete the tour for just £27 (£3 per session) when pre booking (available until the 3rd February), representing a 50% reduction on our regular sufferfest session price!
If you cannot make the scheduled session you can complete the designated 'tour stage' during a drop in session on the same day at no extra cost.
6th Sat – ISLAGIATT – 120 mins, 1200-1400
7th Sun – Revolver + Revolver – 45+45 min, 1030-1200
8th Mon – The best thing in the world – 48 mins, 1800
9th Tues – To get to the other side – 90 mins, 2030-2200
10th Wed – The Wretched – 48 mins, 2000
11th Thurs – The Rookie – 55 mins, 1930-2030 –
12th Fri – Do as you're told – 47 mins 1930-2030
13th Sat – A very dark place + Nine hammers – 51 + 55 mins, 1130-1330
14th Sun – Power station + Violator – 54 + 68 mins, 1030-1230
ToS and Sufferfest sessions all bookable at www.racehub.uk – You can also register for the official tour by making a minimum $10 donation to the nominated charity supported by Sufferfest. This also allows you to be in with a chance of winning some of the amazing prizes they have on offer. Details here.
See the email we sent with all the details here.